Polish, Ukrainian first ladies discuss joint projects for Ukrainian people
Poland's first lady and her Ukrainian counterpart have discussed further Polish-Ukrainian cooperation in providing humanitarian aid and other assistance to the people of war-torn Ukraine, according to the Polish President's Office. It is reported by Upmp.news with reference to "Polskie Radio".
Poland's Agata Kornhauser-Duda and Ukraine's Olena Zelenska held a video meeting on Monday, officials said.
The two first ladies discussed the organisation in Poland of further training courses for Ukrainian medics and firefighters, among other projects.
Under a joint initiative launched by Kornauser-Duda and Zelenska late last year, Poland has so far trained some 200 doctors and specialist staff from Ukraine, according to officials.
Thirty-nine Ukrainian medics have received training in dressing medicine, while 50 medical rescue workers from Ukraine underwent a course in air medical evacuation, the Polish presidential office said.
Poland has also trained 47 Ukrainian rehabilitation specialists, 42 psychologists and 53 volunteer firefighters, it added.
Zelenska said: "Dear Agata, I am grateful to you for not only helping to organize these trainings, but also personally visiting Ukrainian doctors during their internships in Warsaw, having warm meetings and supporting Ukrainian doctors who have been and are currently undergoing internships."
The Polish and Ukrainian first ladies also talked about "further cooperation between the countries to save lives," especially "the possibility of training employees of emergency medical centres, workers of children's homes, nursing homes or hospices, as well as family upbringing specialists," such as "future foster parents, guardians, trustees, adoptive parents and foster caregivers," Ukraine's presidential office said.
Kornhauser-Duda and Zelenska discussed the results of the third Summit of First Ladies and Gentlemen, which took place in Kyiv on September 6.
During the event, the Polish first lady highlighted the impact of the Russian invasion on the mental health of Ukrainians, according to the Polish presidential office.
'We stand with Ukraine and will help for as long as it takes': Polish first lady
Kornhauser-Duda and Zelenska on Monday also talked about ways to rescue Ukrainian children abducted by Russia.
Poland's first lady said: "Please remember we stand with Ukraine and will help you for as long as it takes."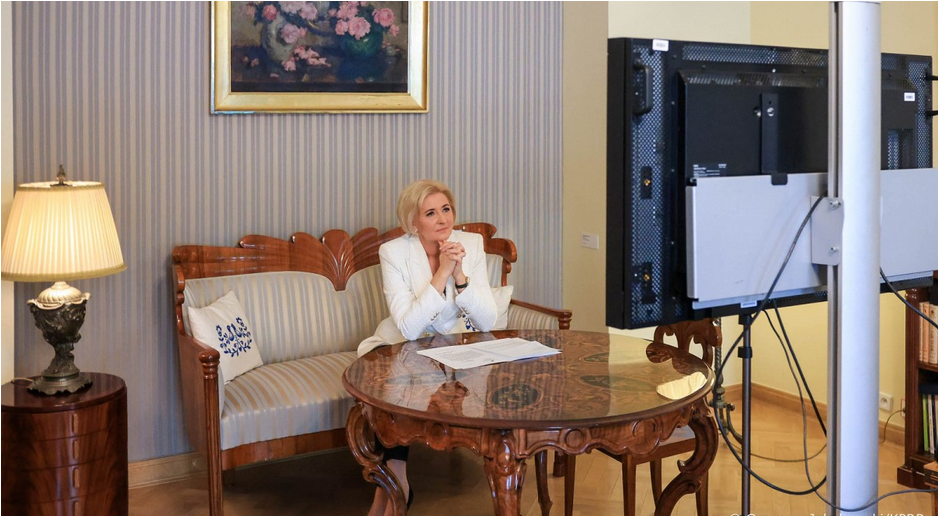 Kornhauser-Duda and Zelenska previously met on the sidelines of the United Nations General Assembly in New York in September, according to reports at the time.
Wednesday is day 623 of Russia's war on Ukraine.
Russia invaded Ukraine on February 24, 2022, launching the largest military campaign in Europe since World War II.
(pm/gs)
Source: prezydent.pl, president.gov.ua