Zelenskyy Dismisses Ukrainian Ambassador to UK Who Criticised Him for "Unhealthy Sarcasm"
President Volodymyr Zelenskyy has signed a decree dismissing Vadym Prystaiko as ambassador to the UK, who described the president's words about being able to thank the UK Defence Secretary Ben Wallace for military assistance every morning as "unhealthy sarcasm". It is reported by Upmp.news with reference to "European Pravda".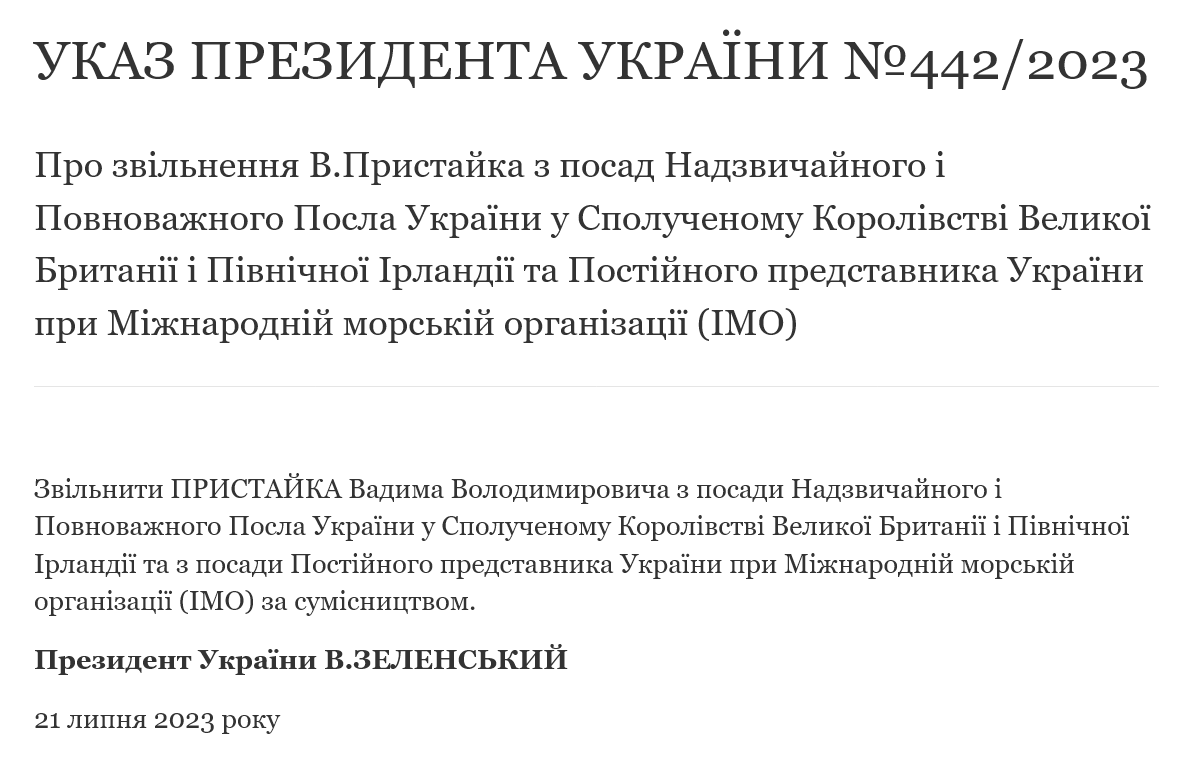 The decree dismisses Prystaiko from two offices: Ambassador Extraordinary and Plenipotentiary of Ukraine to the United Kingdom of Great Britain and Northern Ireland and Permanent Representative to the International Maritime Organisation.
Prystaiko recently had to explain his comment to Sky News regarding President Volodymyr Zelenskyy's "unhealthy sarcasm" in response to the remarks of UK Defence Secretary Ben Wallace.
UK Defence Secretary Ben Wallce made a statement on the sidelines of the NATO summit in Vilnius, calling on Ukraine to express more gratitude to its partners for their military support instead of demanding new weapons.
He pointed out that lawmakers, especially in the US, believe that more articulated gratitude from Ukraine would make it easier to decide on further aid allocations.
In response to Wallace's words, Volodymyr Zelenskyy said that Ukraine was very grateful to the United Kingdom and its people for their support. He added, "we can wake up every morning and personally thank the minister". Commenting on the discussion, Prystaiko called the remarks "unhealthy sarcasm". This statement was perceived by all observers, including the UK media, as a criticism of President Zelenskyy, and even after the embassy's objections, Sky News did not delete the tweet with its critical interpretation of the ambassador's words.
Prystaiko then explained that he did not disassociate himself from the criticism but softened it, saying that "sarcasm is not necessary between friendly countries".
On 20 October 2022, Prystaiko was the first foreign diplomat to present his Letters of Credenceto the new UK King Charles III.
Prystaiko was appointed ambassador to the UK by President Volodymyr Zelenskyy's decree on 20 July 2020.
Prior to that, Prystaiko was Deputy Prime Minister for European and Euro-Atlantic Integration, and before that, he served as Ukraine's Foreign Minister.
In 2017-2019, he was Ukraine's Ambassador to NATO.