UPDATE: Poland remembers victims of 1940 massacre by Soviets
Poland's top officials on Tuesday morning began a day of commemorations to mark the anniversary of the 1940 Katyn Massacre of Polish officers and intellectuals by the Soviets. It is reported by Upmp.news with reference to Polskie Radio.
April 13 is a national day of remembrance for the victims of the World War II mass murders.
In a special message focusing on the anniversary, President Andrzej Duda said that the Polish officers and intellectuals "were killed only because they were Polish patriots."
"Preserving the memory of the Katyn crime is our moral duty and obligation and a great service to our country," the Polish head of state said in his message.
He added that "the victims of that crime left a legacy of unshakable, proud patriotism," while also inspiring "generations of those who fought for a free and sovereign Poland."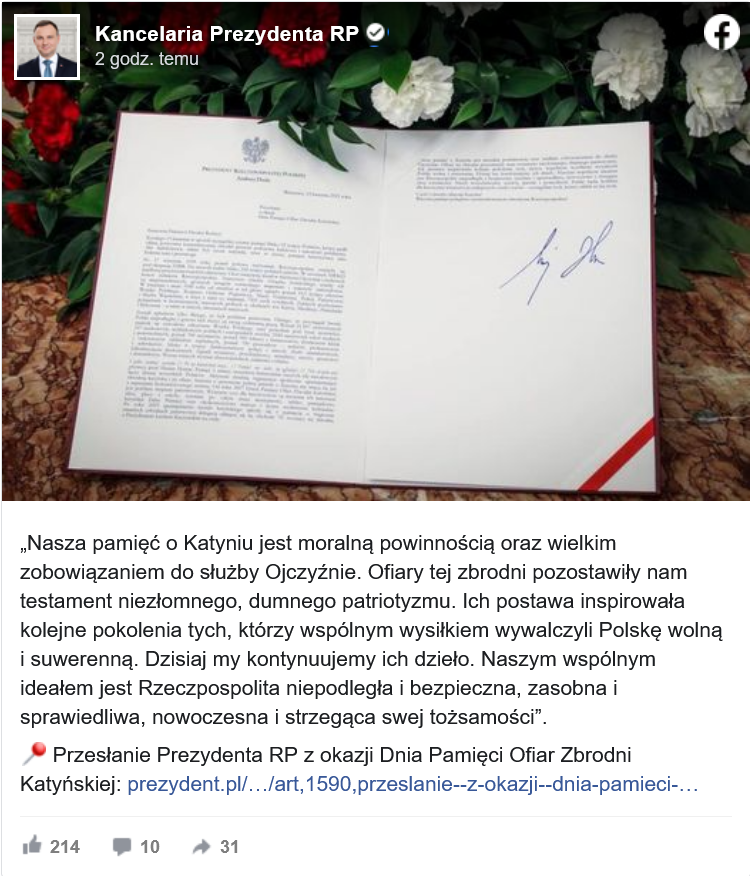 Later in the day, the Polish president is expected to pay tribute to the victims of the Soviet crime at a monument in Warsaw's Old Town district.
In the evening, the façade of his presidential palace will be illuminated to honour those murdered in the Katyn Forest in western Russia more than eight decades ago, one of Duda's aides, Wojciech Kolarski, told state news agency PAP.
A host of other events are scheduled throughout the nation to observe the memorial day, which was established by the country's parliament in 2007.
Due to safety precautions amid the coronavirus pandemic, this year's commemorations are less high-profile than in most previous years.
Physical attendance during the day's ceremonies has been limited due to social distancing precautions prompted by the COVID-19 health crisis.
'Painful symbol of Soviet crimes'
The Polish foreign ministry said in a tweet on Tuesday morning that the mass graves of Polish prisoners of war "in Katyn, Kharkiv, Mednoye, Bykivnia and other locations are a painful symbol of Soviet crimes and attempts at falsifying history."
Lighting a candle of remembrance
Ahead of the 81st anniversary of the mass murders, Polish Foreign Minister Zbigniew Rau honoured the victims at a Polish war cemetery in Bykivnia near Kiev, Ukraine last week.
Almost 22,000 Polish prisoners of war were killed in the spring of 1940 on orders from top Soviet authorities, according to estimates cited by Polish Radio's IAR news agency.
Following the Soviet invasion of Poland in September 1939, thousands of Polish officers were deported to camps in the Soviet Union.
POWs from camps in Kozelsk, Starobelsk and Ostashkov as well as Poles held in prisons run by the Soviet Union's NKVD secret police were among those murdered in April 1940.
Moscow for decades denied responsibility for the Katyn Massacre, while the topic was taboo when Poland after the war remained under Soviet control until 1989.
(gs)
Source: PAP