Dynamo in Poland: preparations for Sturm and dinner at XIV century castle
After return from Liverpool, FC Dynamo Kyiv started getting ready for the Champions League third qualifying round matches against SK Sturm Graz. It is reported by Upmp.news with reference to Dynamo.
Players analyze strengths and weaknesses of the Austrian side at theory classes in detail. On Sunday, after such class, players went to the field. Having had a warm-up, the White-Blues practiced possession in squares. Then they did tactics exercises, worked on defensive and attacking actions.
Generally, it's very obvious that Kyivans really miss their home and dream of return to Ukraine.
Anyway, the town of Uniejow, where Dynamo are staying and getting ready for the Champions League, gave our team a very warm welcome. Since day one, the White-Blues have everything they need including perfect field and convenient location.
The burgomaster of the town Jozef Kaczmarek is a huge football admirer and now – Dynamo fan. He attended the game against Fenerbahce in Lodz and brought three buses of Ukrainians he bought tickets at his own expense for. On Sunday evening Kaczmarek decided to congratulate the team on qualification for the Champions League next round and invited the White-Blues to have dinner at the local XIV century castle. Upon the arrival, Dynamo were greeted with ovation, visual effects and "We are the champions" song. The burgomaster showed our team the castle himself.
In their turn, Dynamo had presents for the whole delegation while Jozef Kaczmarek, who loves football and plays it quite a lot, got the jersey of Viktor Tsyhankov. The burgomaster said that Viktor is a really good player and potential world football star.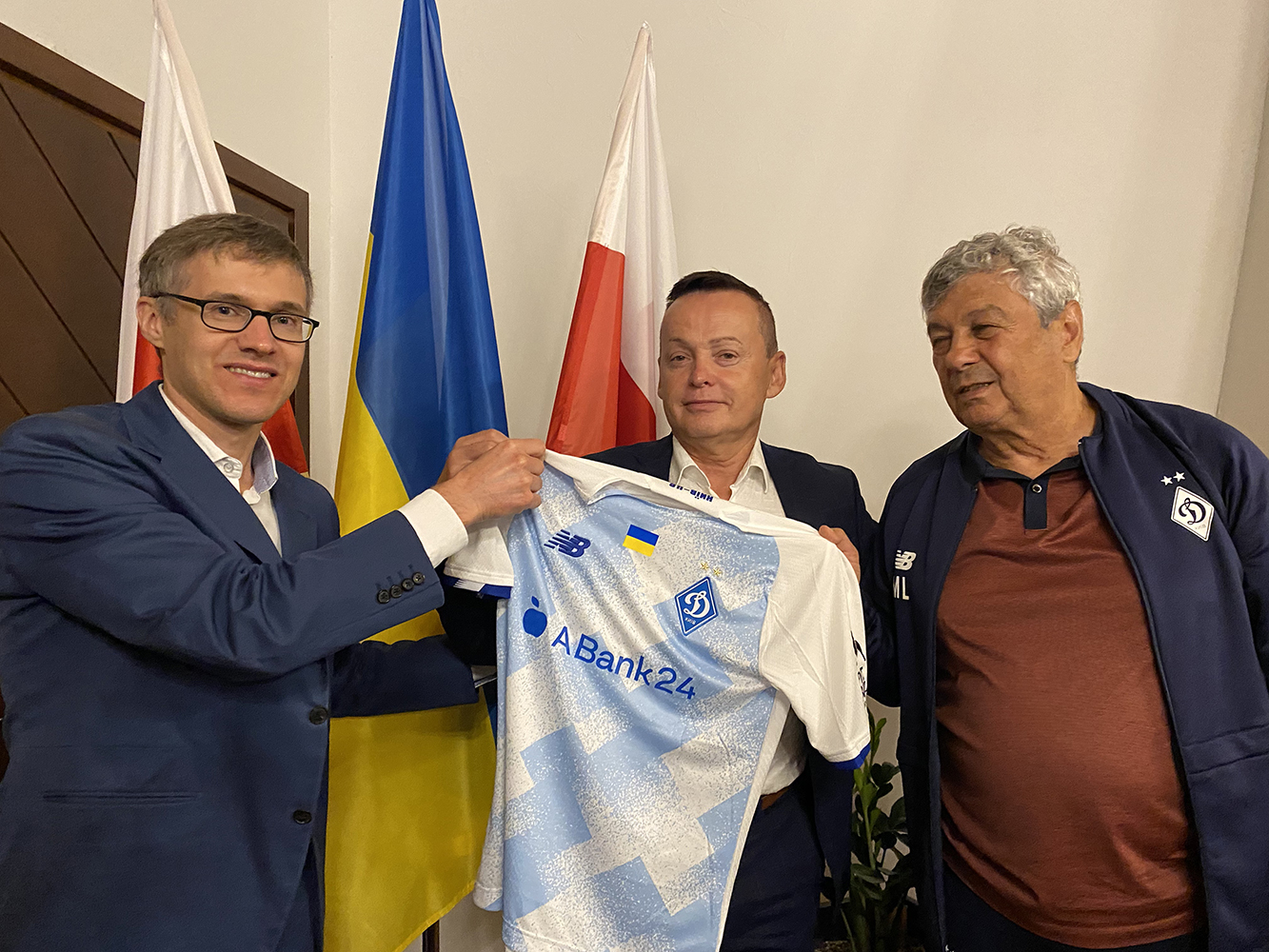 Besides, the head of Dynamo delegation Anatoliy Vovk made a touching speech addressed to the burgomaster. He thanked the people of Poland and Polish government for receiving Ukrainians so warmly during this horrific war. Kaczmarek responded that Dynamo are always welcome in Uniejow and Ukrainians are always welcome in Poland.
Mircea Lucescu stated that Poles and Ukrainians have become brotherly people. On his behalf, he thanked Poland and presented waitresses huge bouquet of roses for their hospitality.